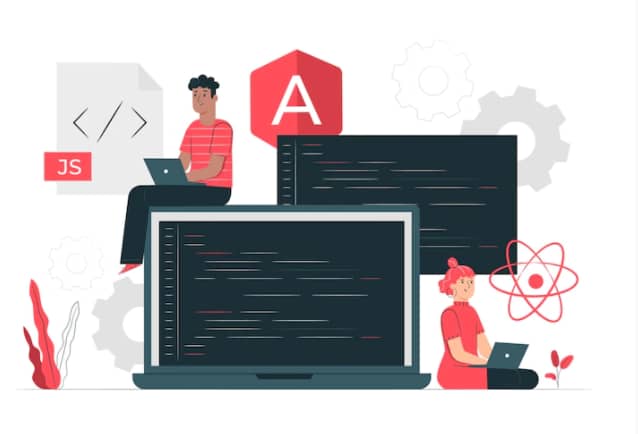 Planning to build a robust single-page web application? Or want to hire good angular developers in India to give your projects multiple functionalities & intuitive designs? Nowadays there is a rising demand for Angular developers in the web development market. But, many people are still skeptical regarding the hiring of angular developers from India. But what's so special about Angular that is keeping the people so hooked? Or what are the major advantages of hiring Angular developers in India that can aid you extensively further? To explore all these topics let's dive right into our 'angular vault'!
First, let's cover the basics!
What is Angular & AngularJS?
Angular has been a renowned open-source framework for creating incredible SPAs. The term 'Angular' has been comprehensively used to represent all its versions after AngularJS or Angular 1. The very first version of this framework was called AngularJS.  Whereas in 2009, engineers of Google named Adam Abrons and MiskoHebery developed a framework entitled Angular 1 and released it officially in 2010.  Later Google completely rewrote the AngularJS framework & released the new version as Angular 2 in 2016. Therefore to comprise all the subsequent versions, a common term, Angular was extensively used amongst the Angular web development companies for ease of communication.
Till now, Angular is a dynamic front-end development platform that is majorly used to build a responsive and powerful web application.
Currently, Angular 11.0.0 version is available for Angular developers that take HTML as a first-class citizen. It also allows Angular developers and designers to work collectively & deliver amazing web applications.
Why Choose Angular over Others?
Some of the major advantages of using the Angular framework for your web projects are:
Angular uses a TypeScript language,that substantially ensures higher security in comparison to other frameworks.
Angular also allows the developers to easily debug the code directly in the web browser.
AngularJS's renowned feature of MVVM-based architecture offers numerous benefits and acquires a massive adoption rate.
Advantages of Hiring Angular Developers in India
With a rising demand for Angular web-based applications, many firms really look forward to hiring highly proficient Angular developers who can handle their Angular development services without any delay. But, the thought of hiring the best angular developers in India sometimes gets down-boarded due to the diverse availability of front-end developers in the IT market. It keeps you baffled between hiring a full-stack developer or just an Angular developer to build intuitive UI designs. To deal with all such confusion lemme give you 7 top advantages of hiring Angular developers in India that can surely be a profitable deal for your entire company.
Highly Skilled & Experienced
Obviously, you require professional Angular developers who carry useful insights regarding web applications. It is the main asset of Angular developers when it comes to front-end development. Hiring experienced Angular developers in India won't be a troublesome task for anyone with specific web development requirements.
With a deep knowledge of Angular and TypeScript language, developers really nail the art of your development process & offer much easier and more effective solutions.
They also possess adjacent information regarding other technologies like Node and Webpack, allowing'em to deliver asynchronous tasks with immense expertise.
On-Time Delivery
As the technology is immensely evolving every day, one requires Angular developers who are not just creative but disciplined with their delivery of work. Angular developers in India are 'pros' when it comes to adapting the change and implementing new techniques for functioning successful projects on time.
It also helps them to smoothen up with the custom software development companies who consistently require updated frames in their formats & on-time delivery of projects.
Cost-effectiveness
It is one of the most highlighted reasons to hire angular developers in India. Many claim angular developers in India are 60 to 70 percent cheaper with respect to other countries carrying similar experience & skill sets. Therefore, if you demand a high-quality and creative website or mobile app, but have a limited budget? hiring cost-effective angular developers from India is your solution.
There are around 2 million Angular developers in India who possess highly professional knowledge of the framework hence it's rare that you might even end up with moderate developers.
Aquianted with Latest Technologies
Since all the AngularJS developers have to consistently work with the upgraded versions of this framework by google. Hence, it is easy to hire angular developers in India. They are not just reliable but also provide advanced functionalities for various Angular web development services on daily basis.
As the Angular developers are aware of the new technological trends and tools they also build competitive software keeping your projects on top of the charts
Communicative
Communication is super essential when you are outsourcing the development of any project. Glitches in your outsourcing lead to unexpected situations in the entire project. But Indian angular developers have really good communication skills allowing them to dodge any project bug generated through misunderstanding or communication issues.
Make sure to accomplish all your project requirements & provide them vividly to your developers.
No Time-Zone Issues
Many Angular developers in India deal with foreign clients hence it is easy to hire an angular developer in India with 24×7 availability.  Surely, they rest & come up with incredibly creative results.
But their consistency never gets affected due to the time zone constraints of their native country. They make sure to handle the entire development process with ease & clients' favorable time slots.
Efficient Understanding
Due to their high expertise in angular web development companies, they can quickly understand your project for further processing. It becomes a lot easier when you don't have to break down every fundamental aspect of your imagination in front of your developer to visualize. Isn't it a blessed thing while angular developer's hiring in India?
With effective & desired delivery by these angular developers on the basis of the client's requirement, you can monitor a huge success in your gross project counts after all.
Bonus Tips! for Hiring Angular Developers In India
Identify your business goals & enlist the major developmental processes based on custom software development company services or whoever is the provider.
Find a reliable Angular web Development Team suitable for your project.
Contact & Interview the selected Angular developer team altogether to assess their synchrony amidst the development process.
Discuss a detailed Project Requirement guideline with the selected candidates.
Hire such AngularJS Developers who can start your app development project with strategized results.
Angular app development services provide efficient quality & creative web solutions for any business. Therefore hiring Angular developers in India who are Pros in their functionality is never a losing battle.
For more engaging & pin-worthy blogs like these keep sharing & commenting and enjoy effective IT insights with your buddies!